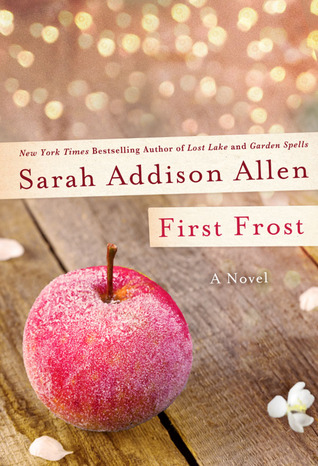 Published: January 20th 2015
Purchase: Amazon
Add to Goodreads

Synopsis:

A magical new novel from the New York Times bestselling author of Lost Lake, featuring characters from her beloved novel Garden Spells.

Autumn has finally arrived in the small town of Bascom, North Carolina, heralded by a strange old man appearing with a beat-up suitcase. He has stories to tell, stories that could change the lives of the Waverley women forever…
Review:
Several years ago I came across a book in my favorite used book store called Garden Spells. It was on clearance and since the title intrigued me I picked it up and read the back cover. What I read there sealed the deal and I purchased it that day. When I finally sat down and read I was immediately taken into a special world that left me with such wonderful feelings and instantly I became a fan of the author.
First Frost is the second book in the Waverley Family series. It immediately brought me back to those wonderful feeling I had when I read Garden Spells. I was able to snuggle on the couch and ignore the world around me as I became involved in Claire, Sydney and Bay's lives. I really wish I could slip into their world and see the apple tree for myself.
This series is a must read series for anyone I know. I have recommended Garden Spells to so many people and I now happily add First Frost to that very short list of well-loved books.
(This book was received as an ARC from the author/publisher in exchanged for an honest review.)