Hosted by: Breaking the Spine
Has anyone else besides me been checking their calendars and counting down until this book is released???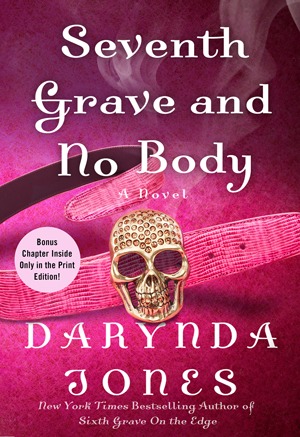 Seventh Grave and No Body (Charley Davidson #7) by Darynda Jones
Published: October 21st 2014
Purchase: Amazon
Add to Goodreads
Synopsis:

Twelve. Twelve of the deadliest beasts ever forged in the fires of hell have escaped onto our plane, and they want nothing more than to rip out the jugular of Charley Davidson and serve her lifeless, mangled body to Satan for dinner. So there's that. But Charley has more on her plate than a mob of testy hellhounds. For one thing, her father has disappeared, and the more she retraces his last steps, the more she learns he was conducting an investigation of his own, one that has Charley questioning everything she's ever known about him. Add to that an ex-BFF who is haunting her night and day, a rash of suicides that has authorities baffled, and a drop-dead sexy fiancé who has attracted the attentions of a local celebrity, and Charley is not having the best week of her life.

A tad north of hell, a hop, skip, and a jump past the realm of eternity, is a little place called Earth, and Charley Davidson, grim reaper extraordinaire, is determined to do everything in her power to protect it.

We're doomed.
I just cannot wait until this book is downloaded safely into my Kindle. I will be stopping whatever I am currently read and start this right away. I can't wait to see what happens next….
So are you waiting for Seventh Grave and No Body to be released like I am? Or is there another book that has caught your interest? If so leave me a link so I can check it out!